This was the name of a blog that lived on wordpress.com from January 9, 2015 to March 1, 2019, when it got suddenly killed for an unspecified violation of their Terms of Service. No explanation could be obtained from them. This seems the usual fate of any free blog that displeases.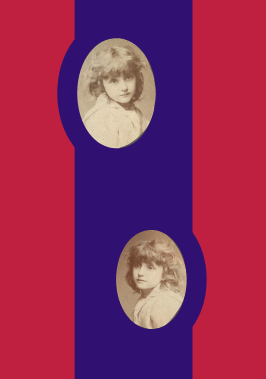 Its exuberance manifested itself in several ways. First by its colours, with a light grey (#cccccc) text on a blue (#3f200ff) background surrounded by a wine-red (#bf203f) frame, containing on its right side a background image with two medallions containing each a photograph of Minnie Terry, a child actress much admired by the poet Ernest Dowson. Then by its poetic explorations (all of them in French): wild lyrical improvisations in prose, love poems devoted to young girls, some hiding a secret enigma. Finally, by what must have displeased the bigots: a few paintings of nude young girls.
Agapeta's motto was A-E-I-O-U, which stands for two Latin sentences:
Amoris Est Imperare Orbi Universo

Agapeta Equidem Illuminat Omnia Ubique
meaning respectively "To love it belongs to rule the whole world" and "Agapeta surely illuminates everything everywhere and always." The poem Voyelles by Arthur Rimbaud focuses on these five vowels.
The old Occitan song Lo boièr (The cattle herder) repeats that motto "A-E-I-O-U" in each stanza. Moreover, under the appearance of a ludicrous story (or drinking song), it seems that it hides a secret meaning, perhaps related to the persecuted Cathar heresy; here is the English translation:
When the herdsman comes back from tilling / Plants his goad
Finds his wife at the foot of fire / Wholly unconsoled
"If you're sick say yes / We will make you a soup
With a turnip, a cabbage / A lean lark"
"When I will be dead bury me / Deepest in the cellar
You will put my feet against the wall / The head under the tap
And the pilgrims who will pass / Will take the holy water
And will say 'Who died here? / It is the poor Joan
Who went to paradise / To heaven with her goats.'"
A heretic secret, hidden under a seemingly ordinary song in order to escape persecution, was a very fitting emblem of Agapeta, which defended reviled heresies and forbidden loves.
Lastly, "agapeta" is a Latin word meaning "female spiritual lover," indeed the blog extolled spiritual love.
The list of URLs of all posts of Agapeta resides in a Google Document. Each one can then be searched on the Internet Archive Wayback Machine, where it was saved.
Poets and Lovers takes its URL from its late predecessor, which in its four years of existence attracted a small following of devoted readers …