Ernest Christopher Dowson was born on August 2, 1867 in Lee (now part of Lewisham), in the Kent region of the UK. Throughout his life he suffered from poor health, and he died from tuberculosis and neglect on February 23, 1900, aged 32. He was buried in Ladywell Cemetary. Here is an old picture of his grave, scanned from The Letters of Ernest Dowson (Desmond Flower & Henry Maas, editors):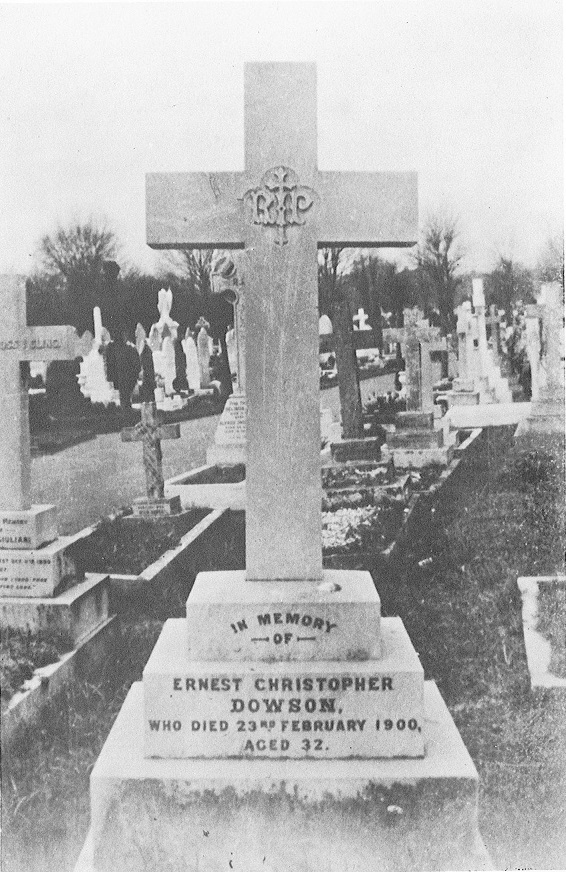 His grave was later vandalised, as can be seen in the following photographs from Find A Grave:
The grave was finally restored in 2010, and the circumstances of this restoration were given in the Ernest Christopher Dowson Facebook page. It is itself a charming story of love and devotion. The "Photos" section of the page contains a scan of an article in a newspaper, whose name and date are not given:

I have transcribed it:
Poet's gravestone to be partly replaced.

The run-down gravestone of a poet will be partly replaced after a resident raised cash for the work. New sections of stone will be laid for 19th-century poet Ernest Dowson in Brockley and Ladywell Cemetary, off Ivy Road.
Philip Walker, 36, of Bartram Road, Brockley, used the internet to research and get support for his effort to have the gravestone replaced.
He said: "I moved to Brockley three years ago and was walking through the cemetary when I noticed this grave that looked old but always had fresh flowers on it.
"I searched his name on the internet and saw the work he had done. I decided I would start raising funds to restore the grave and set up a Facebook group and website.
"People started donating from all over Europe and even America."
Dowson, who grew up in Lee and worked as a poet and novelist, died 110 years ago, aged 32.
Mr Walker, who helped raise more than £500 for a new gravestone section, has organised an unveiling on August 2.
The event, which starts at 2pm, will feature a reading by Jad Adams, author of a biography about Dowson, followed by a memorial in the cemetary chapel.
It will end with a celebration of his life at the Brockley Jack Theatre in Brockley Road, Brockley.
The restoration was organised on August 2, 2010, on the 143rd anniversary of Dowson's birth. Here are photographs of the restored grave, again from Find A Grave:
A larger view of the plaque can be seen on Dr Tony Shaw's blog, I show this picture here: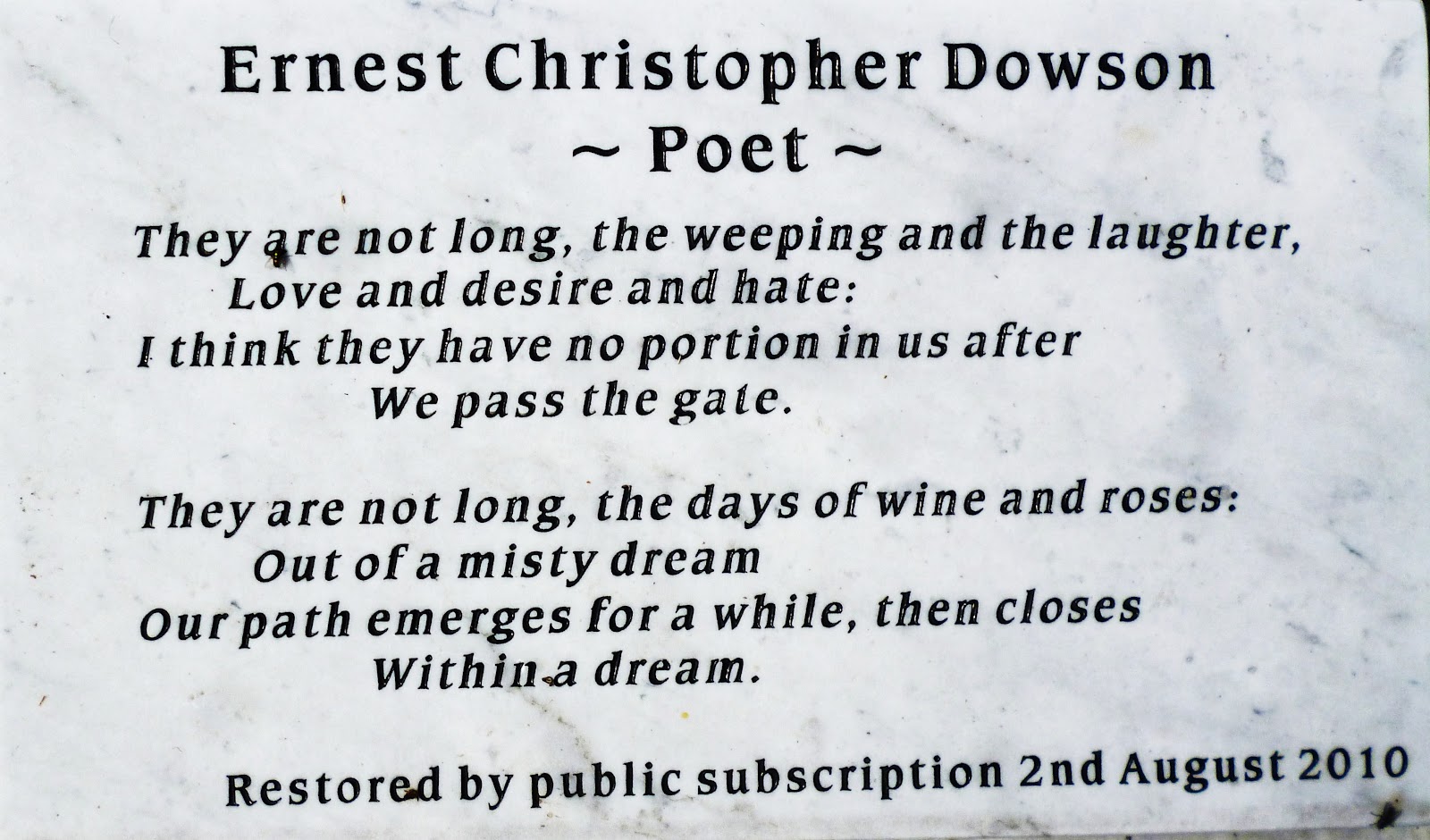 The poem on it is Dowsons's "Vitae summa brevis spem nos vetat incohare longam;" this title comes from Horace's Odes I, iv, 15, it means "the short span of our life forbids us to indulge in long-term hope," cf. Ernest Dowson Collected Poems, R. K. R. Thornton & Caroline Dowson, editors. It is a most fitting tribute to Dowson, but my favourite is from the 5th of his "Sonnets of a Little Girl:"
Or dull thy gladness, yet once in a while
Dream of a day departed and a friend
Who placed above the world and Fortune's prize
The love that centred in thy childish eyes.
Previously published on Agapeta, 2015/01/11.