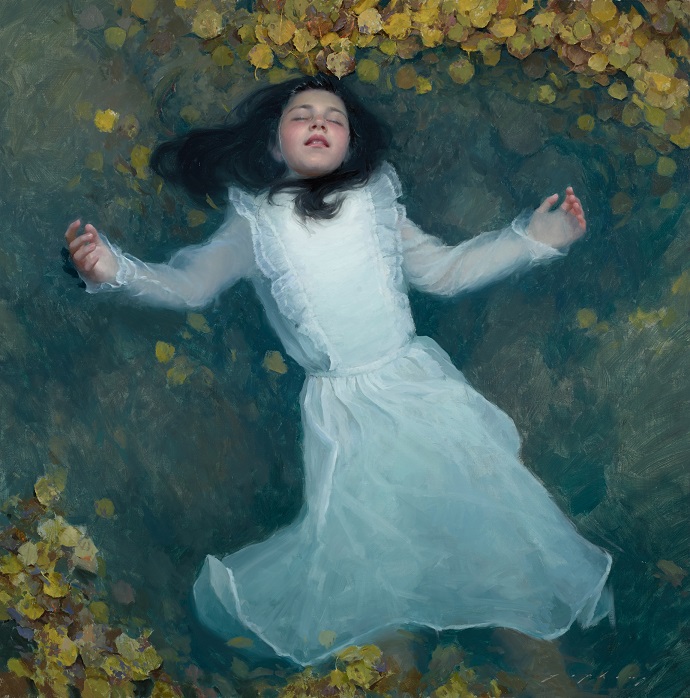 LOVELINESS
by Hilda Conkling

LOVELINESS that dies when I forget
Comes alive when I remember.
In previous posts, I have presented two themes from Poems by a Little Girl (1920), Hilda Conkling's first volume: dreams, often involving fairies and nature, then rose petals, which she associates with her heart, or with a dove representing love. In her second volume Shoes of the Wind (1922), the topics of dreams, roses and love become united within two beautiful poems, but here love becomes more personal. Indeed, Hilda was no more a little girl, she entered into puberty, so her fantasies and desires took a more womanly form. Also the style of her poetry matured, with a quasi-adult sophistication.
In the following magnificent poem, she feels the physical closeness of a person from her dreams; I think that it is a woman (with "dark yellow hair lifted by the wind"), but not her mother.
DREAMING OF DREAMS
by Hilda Conkling
DREAMING of dreams long ago
On a rain-cloudy day,
I felt your soft hands like roses,
And your eyes looking down on me.
Your lips were near
Curled at the corners like flower-petals.
I think of your dark yellow hair
Lifted by the wind . . .
I can see it in my mind:
It makes me wonder.
How did I find you in my dreams?
Where is the dream now?
Where?
Your dream is flying over mountains
Down the valleys,
Over the rivers of autumn colors
Into the sky
And away!
The next poem expresses her hope that her dreams of love will one day come true. In fact, Hilda never married, and no love affair in her life is known.
THIS IS A DREAM
by Hilda Conkling
ROSES in my garden,
Brooks that run far,
Clouds that go a-hunting,
Red copper fountain-bowls . . .
This is all my dream
I am telling you . . .
Candlesticks, palaces,
Leaves that turn to gold,
Marble shapes that stand,
Trees that turn to silver,
Leaves of glass,
(Roses in my garden,
Brooks that run far . . .)
Oh my dreams will be coming true
Some day when I do not think of it!
Love is my dream,
Love is everywhere.
(Brooks that run far
Reflect the sky.)
Love climbs like a vine
In my heart;
Like a vine of amethyst
And pearl.
Oh, my dream will come true some day,
Roses in my garden, brooks that run far!
Source of the poems: Hilda Conkling, Shoes of the Wind, A Book of Poems (1922), from the digitisation of the original edition on Internet Archive.
This is a revised version of a post previously published on Agapeta, 2016/01/01. The short poem at the top was published in a separate post, 2016/01/16.