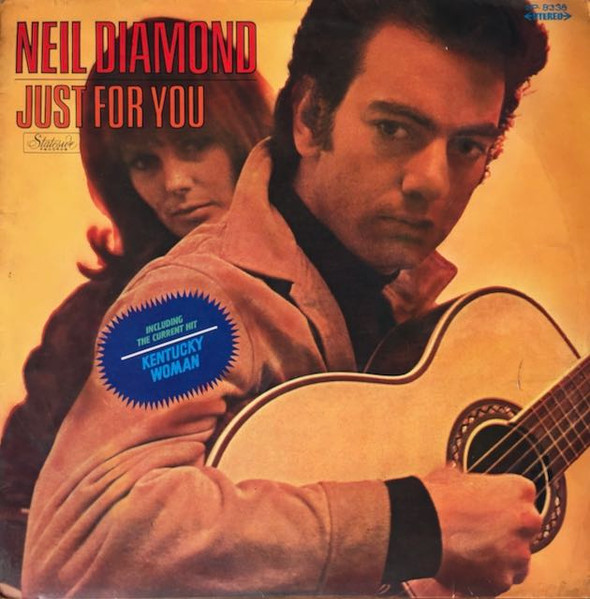 The American singer-songwriter Neil Leslie Diamond (born January 24, 1941) is one of the most successful musicians of all time, with more than 130 million records sold worldwide.
His second LP album Just for You was released on August 25, 1967; it has never been released on CD. Its first title, the song "Girl, You'll Be a Woman Soon," reached number 10 on the Billboard Hot 100 (the US pop singles chart) in 1967. Other versions have been recorded by many musicians, in particular Cliff Richard (1968), Jackie Edwards (1968), the Biddu Orchestra (1978), and 16 Volt (1998). It enjoyed a second life when the rock band Urge Overkill interpreted it for the soundtrack of Quentin Tarantino's 1994 film Pulp Fiction.
In the song, he declares his love to a young girl, he tells her that she will "be a woman soon" and that she will "need a man." He complains that people always put him down and try to prevent that love, saying that he is "no good."
According to Genius, David Wild wrote in his book He Is . . . I Say: How I Learned to Stop Worrying and Love Neil Diamond:
When Diamond first recorded the slow, seductively sensitive song in 1967, it solidified his growing connection with his female fan base, many of whom are apparently still following him all these years later, even if they are no longer properly addressed as 'girl.' Diamond has said that the song was written for all those teenaged girls who would show up at his earliest tour dates and vocally express their tremendous support.
In an interview with Billboard (June 13, 2018) Neil Diamond said:
At the point on my career I wrote it, my audience was teenage girls, and the song came out of that context.
Here is the video of the song from the official Neil Diamond YouTube channel:
I give below the lyrics from Genius:
Girl, You'll Be a Woman Soon
words & music by Neil Diamond
Girl, you'll be a woman soon
I love you so much, can't count all the ways
I've died for you girl and all they can say is
"He's not your kind"
They never get tired of putting me down
And I'll never know when I come around
What I'm gonna find
Don't let them make up your mind
Don't you know
Girl, you'll be a woman soon
Please, come take my hand
Girl, you'll be a woman soon
Soon, you'll need a man
I've been misunderstood for all of my life
But what they're saying girl it cuts like a knife
"The boy's no good"
Well I've finally found what I've been looking for
But if they get their chance they'll end it for sure
Surely would
Baby I've done all I could
Now it's up to you
Girl, you'll be a woman soon
Please, come take my hand
Girl, you'll be a woman soon
Soon, you'll need a man
Girl, you'll be a woman soon
Please, come take my hand
Girl, you'll be a woman soon
Soon, you'll need a man
Neil Diamond wrote and interpreted another song dedicated to a little girl: "Sweet Caroline."
In an interview with The Guardian (November 21, 2007), he revealed that it was about Caroline Kennedy, daughter of the late president John F Kennedy, who was eleven years old at the time the song was released:
The inspiration for the song came from a photograph of the then nine-year-old Kennedy the singer saw in a magazine while staying at a hotel in Memphis.
"It was a picture of a little girl dressed to the nines in her riding gear, next to her pony," Diamond said. "It was such an innocent, wonderful picture, I immediately felt there was a song in there."
In the interview with Billboard mentioned above, he described how this song arose:
That song was like a lucky gift that I got. It came to me when I needed it desperately. I was about to go hungry, I had a new baby, all kinds of things that had counted on this record, which I had just an hour to do it. In those days you used to record three songs in three hours and I only had two songs and it was the day before the session, so I knew I had to write one more song — that's very important to know. It was in Memphis, Tenn., I was in a hotel and that beautiful girl came to me. It saved me, it saved my career — and I love "Caroline."