The first post of Poets and Lovers was a poetic composition by the contemporary British artist Graham Ovenden. Now for the hundredth post, I have chosen another one, from the same collection Waterside Memories.
As most poems in that collection, it is filled with nostalgia for the lost beauty of childhood. Indeed Ovenden wrote me about his poems, ending with the following praise of young girls:
So on that diminishing note we look with some melancholia on that most beautiful of Nature's creation, the girl child, who slowly passes into the distance of her maturity. Even so, by means of Art she can still be held in the State of Grace.
In this poem he tells us that Nature, its brooks and trees, existed before us, and it will remain the same while we age, "growing adult tares." Children, who once "were only clothed in light," decay into the "false fashion" of "greed and passion;" instead of flowers, adults hold "sheaves of rank weeds."
The image below is a JPEG conversion of the original PNG from his site: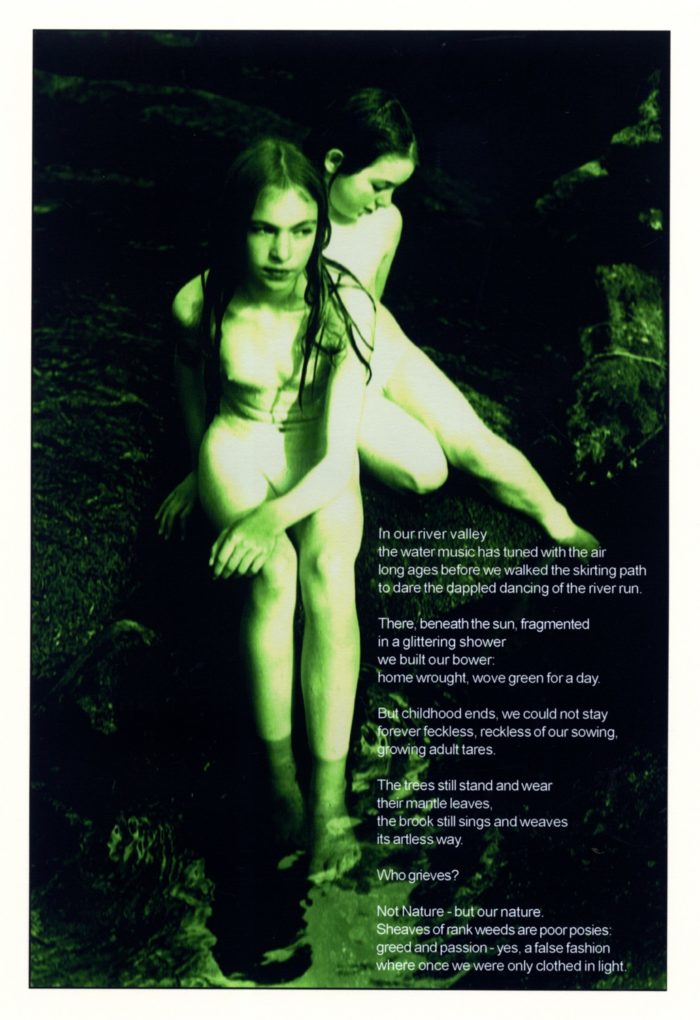 I transcribe the poem below:
Our Secret Valley
by Graham Ovenden
In our river valley
the water music has tuned with the air
long ages before we walked the skirting path
to dare the dappled dancing of the river run.
There, beneath the sun, fragmented
in a glittering shower
we built our bower:
home wrought, wove green for a day.
But childhood ends, we could not stay
forever feckless, reckless of our sowing,
growing adult tares.
The trees still stand and wear
their mantle leaves,
the brook still sings and weaves
its artless way.
Who grieves?
Not Nature – but our nature.
Sheaves of rank weeds are poor posies:
greed and passion – yes, a false fashion
where once we were only clothed in light.
The transcription on Ovenden's site is slightly different.
Please do not use this poem and image without Ovenden's authorisation, this is copyrighted material.