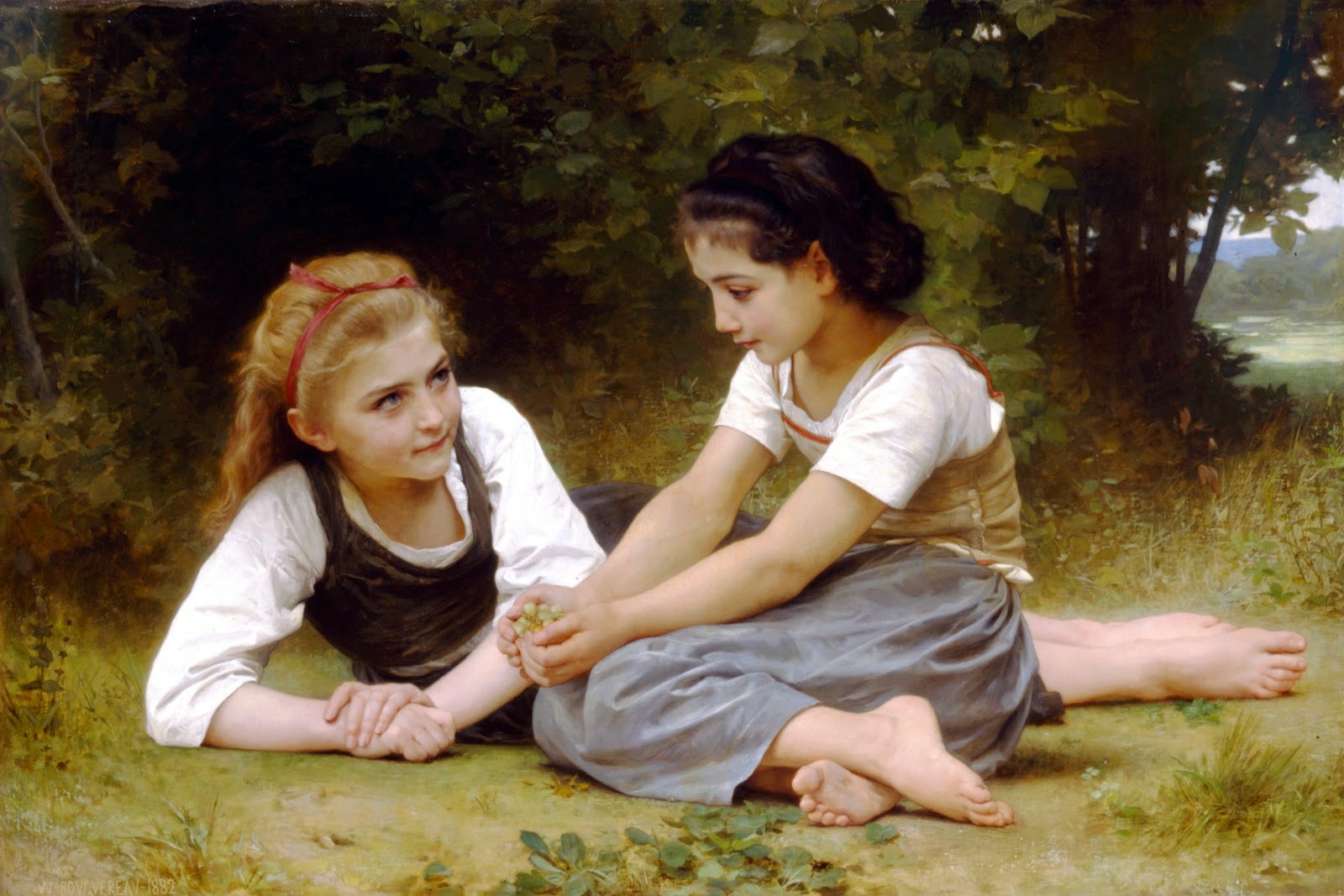 In Crowley's collection Oracles, the poem "Ode to Sappho" is immediately followed by its companion "In a lesbian meadow," on the same topic of love between girls. Through these beautiful verses shines a soft eroticism, mixing tender kisses with the beauties of nature—indeed, arising from true love.
IN A LESBIAN MEADOW.
I.
UNDER the summer leaves
In the half-light
Love his old story weaves
Far out of sight.
Here we are lone, at last.
Heaven is overcast
Yet with no night.
Ere her immortal wings
Gather the thread of things
Into her might,
Up will the moon arise
Through the black-azure skies:
Birds shall sing litanies
Still of delight.
II.
Let my lips wander where
Tender moss grows,
Where through their dusky air
Beams a red rose.
Where the bee honey sips
Let my desirous lips,
Kissing, unclose
Delicate lips and chaste,
Sweetness divine to taste
While the sun glows;
There in the dusk to dwell
By the sweet water-well
In the wood's deepest dell
Where—my love knows.
III.
Skies are grown redder far;
Tempest draws nigher;
Dark lowers a single star;
Mars, like the fire!
Fiercer our lips engage;
Limbs, eyes, ears gather rage;
Sharp grows desire.
Hear thy short bitter cries?
Pity thine agonies?
Loose, though love tire?
Nay, neither hear nor spare;
Frenzy shall mock at prayer;
Torture's red torch shall flare
Till thou expire.
IV.
Stars stud a cloudless sky;
Moon silvers blue;
Breeze is content to die;
Lightly falls dew.
Calm after strain and stress
Now to our weariness
Brings love anew.
Peace brings her balm to us,
Lying as amorous
Still, and as true,
Linked by new mystery,
Lovers confessed. A sigh
Sobs to the happy sky,
"Sorrow, go to!"
Source of the poem: Oracles, in The Collected Works of Aleister Crowley, Volume II (1906). See the digitisation of the original on David Moews's home page, and the simple text online version by The Hermetic Library.
Previously published on Agapeta, 2018/01/04.