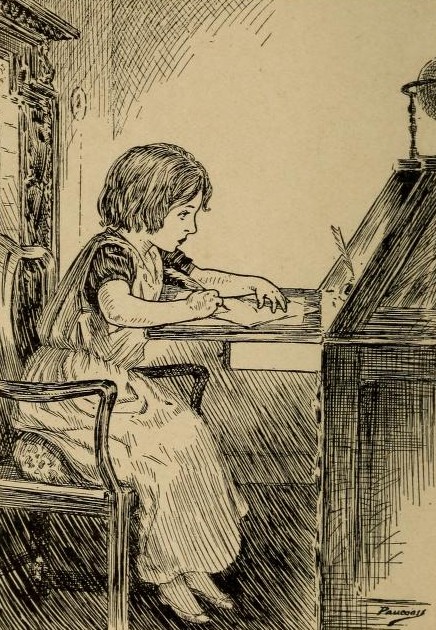 Marjory Fleming's cousin Isabella Keith, a young woman in her early twenties, was in charge of her education from the end of 1809 to the summer of 1811. She showed herself an affectionate and careful teacher, always patient despite Marjory's unruly behaviour and frequent bursts of anger.
A strong bond developed between the two; for the little girl, her cousin became like a mother figure. This can in particular be seen in their correspondence during the autumn of 1811, after Marjory's return to her parents: in two letters to Isabella, Marjory called her "My Dear little Mama" (September the 1st), then "My Dear Mother" (October 12), while in a letter sent to Marjory in November, Isabella called her "my dear daughter."
In my first post dealing with Marjory's journals, I included her humorous poem "Isas bed" from her first journal. Sleeping in the same bed with such a restless little girl was a tiring experience for the young woman. I will now present some more poems by Marjory, all dedicated to Isabella, expressing her deep love for her cousin. The following one, from her third journal, introduces the neologism "ephibol," which could perhaps mean "epigraph," although nobody seems sure about it.
EPHIBOL ON MY DEAR LOVE ISABELLA

Here lies sweet Isabell in bed
With a nightcap on her head
Her skin is soft her face is fair
And she has very pretty hair
She and I in bed lies nice
And undisturbed by rats and mice
She is disgusted with Mr Wurgan
Though he plays upon the organ
A not of ribans on her head
Her cheak is tinged with conscious red
Her head it rests upon a pilly
And she is not so very silly
Her nails are neat her teath are white
Her eyes are white very bright
In a conspicuos town she lives
And to the poor her money gives
Here ends sweet Isabellas story
And may it be much to her glory
Marjory adds under the poem: "All this is a true and a full discription."
She was an avid reader of literature, including poetry, and in her journals she showed herself a very cultured little girl. For instance, in her third journal, one finds the following short piece:
MY ADDRESS TO ISABELLA ON HER RETURN,

Dear Isabella you are a true lover of nature
thou layest down thy head like the meak mountain lamb
Who draws its last sob by the side of its dam,
She wrote about it that it is taken from "Helvellyn" by Sir Walter Scott; indeed, the 4 first verses from its 5th stanza are as follows:
But meeter for thee, gentle lover of nature,
To lay down thy head like the meek mountain lamb,
When, wildered, he drops from some cliff huge in stature,
And draws his last sob by the side of his dam.
In July 1811, Marjory returned to her family. The two girls corresponded for a few months, and they missed each other, but they would never meet again, as Marjory died on December 19. In a letter to Isabella dated July 26, 1811, she included the following affectionate poem:
I am now in my native land
And see my dear friends all at hand
There is a thing that I do want
With you the beauteous walks to haunt
We would be happy if you would
Try to come over if you could
Then I would quite happy be
Now & for all eternity
Isa is so very kind
A better girl I could not find
My mother is so very sweet
And checks my appetite to eat
My father shews us what to do
But I am sure that I want you
I would be happy you to see
For I am sure that I love thee
You are the darling of my heart
With you I cannot bear to part
The watter falls we go to see
I am as happy as can be
In pastures sweet we go & stray
I could walk there quite well all day
At night my head on turf could lay
There quite well could I sleep all night
The moon would give its tranciant light
I have no more of poetry
O Isa do remember me
And try to love your Marjory
The last writing by Marjory is a poem to Isabella Keih, dated December 15, 1811, four days before her death. According to her biographers, having suffered from measles, she felt better and asked for her slate, on which she wrote the poem.
ADDRESS TO DEAR ISABELLA ON THE AUTHORS RECOVERY

O Isa pain did visit me
I was at the last extremity
How often did I think of you
I wished your graceful form to view
To clasp you in my weak embrace
Indeed I thought Id run my race
Good care Im sure was of me taken
But indeed I was much shaken
At last I daily strength did gain
And O at last away went pain
At length the doctor thought I might
Stay in the Parlour till the night
I now continue so to do
Farewell to Nancy and to you.
Wrote by M.F.
This represents the last legacy of a loving little girl. She caught a meningitis and soon died in pain.
Source: Barbara McLean, editor, Marjory's Book, The Complete Journals, Letters and Poems of a Young Girl, Mercat Press (1999).
Previously published on Agapeta, 2018/05/29.