Sir Brooke Boothby (1743–1824), seventh Baronet, and his wife Susanna (1755–1822) had a daughter, Penelope, born on April 11, 1785, their only child. The little girl is renowned for her portrait made by Sir Joshua Reynolds in July 1788. As writes Estelle Hurll in her booklet about Sir Joshua Reynolds:
With all the variety of subjects which Reynolds treated he was never happier than when painting children. He loved them dearly, delighted to play with them, and seemed to understand them as few grown people do. In his great octagonal painting room were many things to amuse his little friends, and a portrait sitting there usually meant a frolic.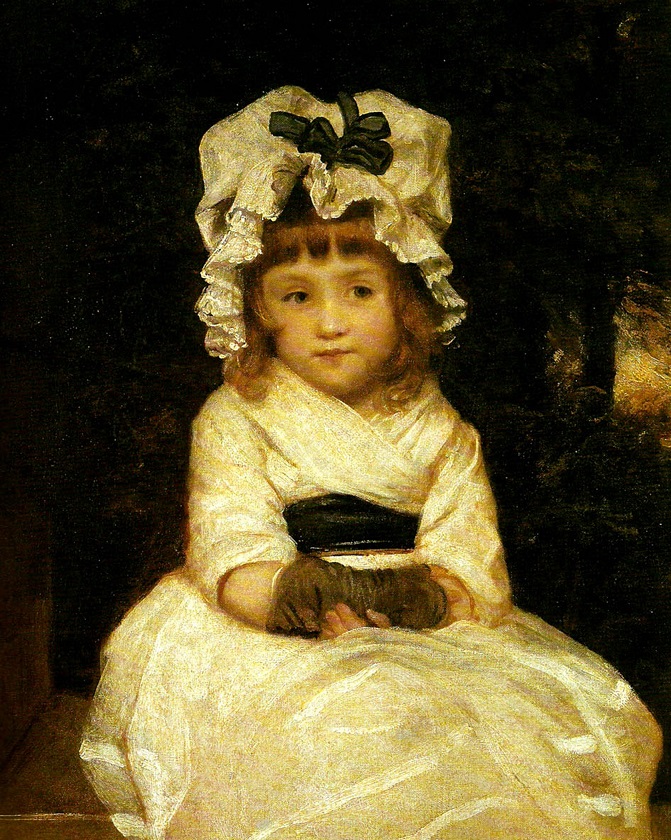 She adds, following the article "About the Painter of Little Penelope" by Rebecca Harding Davis (St. Nicholas, vol. 3, no. 1, November, 1875):
Penelope was the only child of Sir Brooke Boothby, and, as we may well believe from her winsome face, the darling of the household. Her home was a fine mansion buried among trees in the beautiful English country. […] She was an affectionate little creature, and very fond of her father, watching at the gate for his return home, and sitting on his knee in the evening. On Sunday mornings she went to the quaint old church of Ashbourne and knelt beside her mother in the service.
Penelope died on March 13, 1791, one month before her 6th birthday, after an illness of about a month. She was buried on the 20th at St Oswald's Church in Ashbourne, Derbyshire. Rosemary Mitchell, in her article on Penelope in the Oxford Dictionary of National Biography says:
According to local legend her coffin was carried by six little girls, accompanied by six little boys holding umbrellas over them to keep off the rain. Her parents' grief was life-long and devastating, and appears to have resulted in the collapse of their marriage.
Brooke Boothby was inconsolable for the rest of his life. He devoted several years to paying a posthumous tribute to his beloved daughter. He commissioned artists to memorialise her. Thus Henry Fuseli painted between 1792 and 1794 The Apotheosis of Penelope Boothby, and in 1973 Thomas Banks sculpted a marble memorial in St. Oswald's Church, Ashbourne, where Penelope is buried (see the image at the top).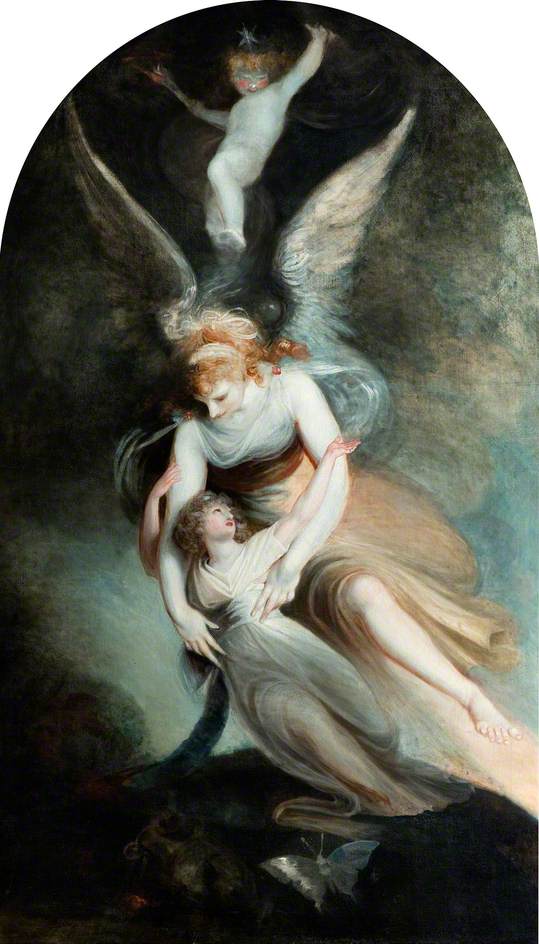 Several photographs of this monument, comments on Fuselli's paintings and further details on the life of Penelope (as well as corrections to inaccuracies in Wikipedia), can be found in my article "The Short Life and Long Afterlife of Penelope Boothby (1785–1791)" in Pigtails in Paint.
In 1796, Brooke Boothby published a collection of sonnets expressing his grief: Sorrows. Sacred to the Memory of Penelope. According to Rosemary Mitchell, some reviews were "measured but sympathetic," but another stressed the "sameness and insipidity of sound" of the sonnets.
This book is extremely rare, as there were almost no later editions. Remaining copies of the original 1796 edition are thus very expensive. Fortunately, Gale ECCO Print Editions (ECCO stands for Eighteenth Century Collections Online) printed a facsimile of the 1796 edition, obtained from microfilms. The quality of the microfilms (or of their digitisation) is rather poor, the illustrations appear as binary black and white images (sometimes with greys simulated by dithering), there is some noise, thus in the text the punctuation (in particular exclamation marks) is sometimes uncertain. Boothby's presentation "to the reader" says:
The following little works were written to relieve a mind overburdened with grief, and are here collected as a frail monument, designed to withhold for a moment, from the grasp of oblivion, one loved "not wisely, but too well."
They have small pretensions to poetical merit; but they are the expression of real feelings […]
Receive them with complacency, gentle reader, and mayest thou never experience the sorrows that they describe!
The collection consists of 24 numbered sonnets, two longer poems both called Elegy, and a final 12-verse poem called Stanzas. The 24 sonnets share the same structure, with 14 verses, three of them being indented: the 5th, 9th and 12th; if this indentation stands for a paragraph break, this means that they are divided into 4 stanzas, the first two with 4 verses and the last two with 3 verses.
Since this tribute to Penelope was not long enough to make a volume, Boothby appended a collection called Miscellaneous Poems; he presents them as "poetical exercises, which, of themselves, he should have thought scarcely worthy to be presented to the publick."
I am aware of only one Internet version of some of Boothby's poems. A selection of 8 of them is included in Sonnet Central, and Bonita Billman is credited for transcribing them: they are Sonnets 1, 2, 3, 5, 6, 12, 15 and 17, the latter being renamed A Locket of Hair and placed before the others. There are minor transcription errors, such as wrong accents, missing punctuation or capitalized words becoming lowercase; the 5th, 9th and 12th verses are not indented, but there is an arbitrary blank line between verses 8 and 9 in Sonnet 17. This transcriptions is uncritically reproduced in Wikisource, without any credit being given.
I present here the transcription of three other poems from this work. First Sonnet 9, by proclaiming Penelope's immortality, matches very well Fuselli's painting:
SONNET IX.
The birds their melancholy descants pour,
Mid the green boughs, to summer's breath that wave;
The gurgling falls the pebbly margent lave;
And with soft murmurs soothe the shadowy bower,
Where, sad and pensive, many a mournful hour
I write, and weep, and ponder on the grave.
Here oft the form of her whom Heaven once gave,
And now the tomb's insatiate jaws devour,
As when alive, I see; answering my sighs;
"Ah, why," she pitying says, "ah, why in vain,
"Do tears incessant dim those sorrowing eyes!
"Suspend thy grief; no more for me complain;
"Though here on earth thou saw'st life's roses fade,
"That form thou loved'st so well is now immortal made!"
Now Sonnets 11 and 14 are the gloomiest of all, as the poet wishes to rejoin his beloved daughter in death:
SONNET XI.
Go, plaintive strain, to yon dim cloisters go!
Where, cold and silent, the insatiate tomb
Hides my soul's treasure in its marble womb;
There breathe my pains in dying accents low.
Invoke her sainted shade, that on my woe,
Looks down with pitying smile: tell her, I come,
To the dark confines of my long last home,
Where the poor heart eternal rest shall know
Tell her, mine eyes are weary of the sun;
Tired with my journey through this vale of tears,
With joy I feel life's sand is almost run.
Farewell, O world! and all thy hopes and fears!
Long lost to pleasure, since that fatal day,
That snatch'd, in beauty's spring, my Child away.
SONNET XIV.
'Tis midnight. All lies hush'd in dread repose.
Troubled with dreams, I leave my restless bed,
To seek the silent mansions of the dead:
Sad, soothing scenes, congenial to my woes!
The moon her melancholy lustre throws.
O'er the dim yews, that darkest shadows spread;
Where Sorrow rests in peace her weary head,
And the still heart nor joy nor anguish knows.
—'Twas but the wind that sigh'd among the leaves!
No plaintive murmur issued from the tomb:—
There, with no pang the tranquil bosom heaves,
Nor hope, nor love, nor grief, nor memory come.
Open, O Earth, thy hospitable breast!
Stretch thy cold arms, receive another guest!
References:
Brooke Boothby, Sorrows. Sacred to the Memory of Penelope, London, printed by W. Bulmer and Co. and sold by Messrs Cadell and Davies, Edwards, Johnson (1796). Reprinted by Gale ECCO Print Editions.
Rebecca Harding Davis, "About the Painter of Little Penelope," St. Nicholas, vol. 3, no. 1, November, 1875. Issue available on the University of Florida Digital Collections. The digitisation and transcription of the full volume is available on Internet Archive.
Estelle M. Hurll, Sir Joshua Reynolds: A Collection of Fifteen Pictures and a Portrait of the Painter with Introduction and Interpretation, Boston and New York, Houghton, Mifflin & Co. (1900). Project Gutenberg Ebook.
Rosemary Mitchell, "Boothby, Penelope (1785–1791)," Oxford Dictionary of National Biography, Oxford University Press, May 2010; online edition (available only to registered users or subscribing institutions.), Jan 2011.
"The Short Life and Long Afterlife of Penelope Boothby (1785–1791)," Pigtails in Paint, April 26, 2015.
Previously published on Agapeta, 2015/05/23.