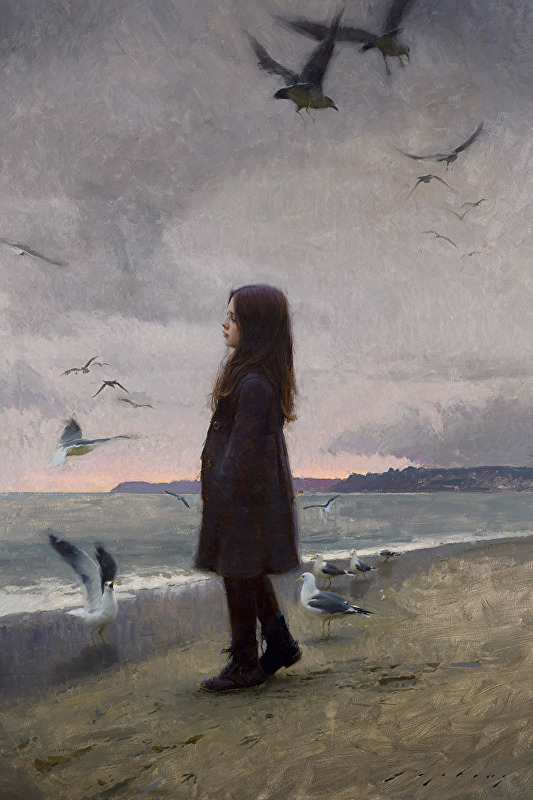 As I have explained before, Ashby-Sterry loved girls of various ages, but his preference went to 16-year-old ones, while he often called younger ones 'pet.'
I present here one of the most beautiful poems from Boudoir Ballads. He calls the girl 'pet' twice, so she must be very young.
A L I T T L E L O V E-L E T T E R.
I.
O PRETTY pet with the tangled hair,
Going to muse by the summer sea—
O dimpled darling with cheeks so fair,
Tell me, O dearest, when musing there,
Will you think of me?
II.
O sweetest sweet, when the salt breeze sighs
'Mid silken locks ever flowing free,
While gulls glint white against sleepy skies,
Will looks of those bright brown loving eyes
E'er be turned to me?
III.
Ah, laughing child, when your eyes beam bright,
And lips are parted in girlish glee;
When the shore is glad in still summer night,
With your sweet soft smile, and your laughter light,
Do you smile on me?
IV.
When the moon is up, and sleeps the land
To tender music in minor key;
When the silver-ripples hush the strand
And scarcely dimple the golden sand,
Will you dream of me?
V.
Poor little heart! when your cheeks are wet
With tears that sadden one's heart to see,
Your moist lips tremble—you can't forget
Sometimes the sun through the rain shines, pet,
When you weep for me!
Source of the poem: Joseph Ashby-Sterry, Boudoir Ballads, London: Chatto and Windus, Piccadilly (1876).
This is a revised version of a post previously published on Agapeta, 2018/04/19.