In his lifetime, Ernest Dowson published two volumes of poetry, Verses in June 1896, and Decorations: in Verse and Prose in December 1899, two months before his death. Except the poems in prose at the end of Decorations, they were included in The Poems and Prose of Ernest Dowson, With a Memoir by Arthur Symons, available on the web as a Project Gutenberg Ebook, and they can also be seen on ELCore.Net, Website of E. L. Core.
The volume Verses is dedicated to Adelaide Foltinowicz, a Polish girl born in 1878, with whom Dowson was in love. Having had hopes for a common future, many poems have a light and happy side, contrasting with the dark ones at the end of Decorations, written in bitter disappointment after Adelaide's marriage with another man.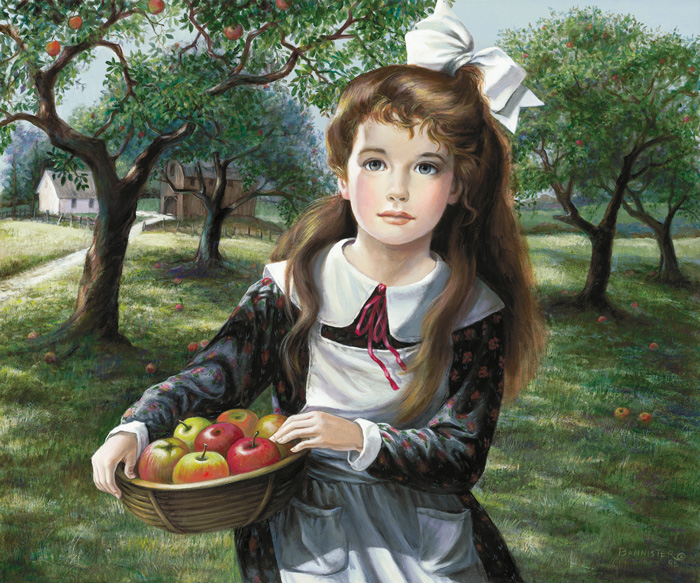 Ernest Dowson spent part of his youth in France, he liked that country and spoke French fluently. He was especially fond of Brittany, often returning there for vacation.
In this poem from Verses, he evokes a nascent love with a young girl in an apple-orchard (Brittany is renowned for its cider). But this sweet memory soon falls into oblivion.
YVONNE OF BRITTANY
For MARMADUKE LANGDALE
In your mother's apple-orchard,
Just a year ago, last spring:
Do you remember, Yvonne!
The dear trees lavishing
Rain of their starry blossoms
To make you a coronet?
Do you ever remember, Yvonne?
As I remember yet.
In your mother's apple-orchard,
When the world was left behind:
You were shy, so shy, Yvonne!
But your eyes were calm and kind.
We spoke of the apple harvest,
When the cider press is set,
And such-like trifles, Yvonne!
That doubtless you forget.
In the still, soft Breton twilight,
We were silent; words were few,
Till your mother came out chiding,
For the grass was bright with dew:
But I know your heart was beating,
Like a fluttered, frightened dove.
Do you ever remember, Yvonne?
That first faint flush of love?
In the fulness of midsummer,
When the apple-bloom was shed,
Oh, brave was your surrender,
Though shy the words you said.
I was glad, so glad, Yvonne!
To have led you home at last;
Do you ever remember, Yvonne!
How swiftly the days passed?
In your mother's apple-orchard
It is grown too dark to stray,
There is none to chide you, Yvonne!
You are over far away.
There is dew on your grave grass, Yvonne!
But your feet it shall not wet:
No, you never remember, Yvonne!
And I shall soon forget.
Source of the poem: Verses, in Ernest Dowson Collected Poems, R. K. R. Thornton with Caroline Dowson (editors), University of Birmingham Press (2003). The poem can also be found in The Poems of Ernest Dowson on ELCore.Net.
This is a revised version of a post previously published on Agapeta, 2015/03/27.