I present here a second poem from the collection Waterside Memories by the famous British artist. Filled with nostalgia, it tells about a young girl seen on a beach, who swam naked; she held the promise of the growth of her girlhood, but the poet did not see her any more.
The image below is a JPEG conversion of the original PNG from his site: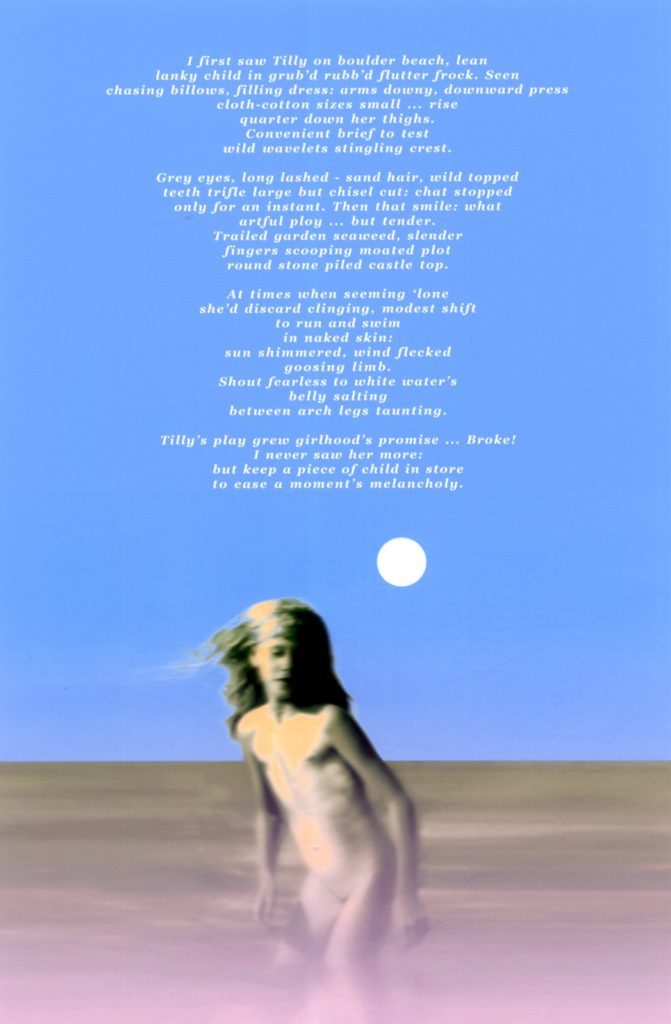 I transcribe the poem below:
Tilly
by Graham Ovenden
I first saw Tilly on boulder beach, lean
lanky child in grub'd rubb'd flutter frock. Seen
chasing billows, filling dress: arms downy, downward press
cloth-cotton sizes small … rise
quarter down her thighs.
Convenient brief to test
wild wavelets stingling crest.
Grey eyes, long lashed – sand hair, wild topped
teeth trifle large but chisel cut: chat stopped
only for an instant. Then that smile: what
artful ploy … but tender.
Trailed garden seaweed, slender
fingers scooping moated plot
round stone piled castle top.
At times when seeming 'lone
she'd discard clinging, modest shift
to run and swim
in naked skin:
sun shimmered, wind flecked
goosing limb.
Shout fearless to white water's
belly salting
between arch legs taunting.
Tilly's play grew girlhood's promise … Broke!
I never saw her more:
but keep a piece of child in store
to ease a moment's melancholy.
The transcription on Ovenden's site has a slightly different punctuation.
Please do not use this poem and image without Ovenden's authorisation, this is copyrighted material.