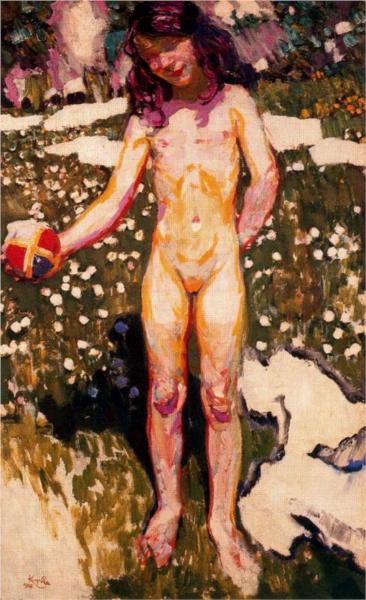 The visionary poet and painter William Blake (b. 28 November 1757, d. 12 August 1827) went largely unrecognised during his lifetime, but he is now considered a seminal figure in the history of the poetry and visual arts of the Romantic Age. In the poem "A Little Girl Lost" published in Songs of Experience (1794), he envisages a future where children and adolescents will freely enjoy nudity and love, and the religious condemnation of these pleasures will cause indignation. He would have been dismayed to notice that 225 years after publishing that poem, things have not much progressed in the Anglo-Saxon world.
A LITTLE GIRL LOST
by William Blake
Children of the future age,
Reading this indignant page,
Know that in a former time
Love, sweet love, was thought a crime.
In the age of gold,
Free from winter's cold,
Youth and maiden bright,
To the holy light,
Naked in the sunny beams delight.
Once a youthful pair,
Filled with softest care,
Met in garden bright
Where the holy light
Had just removed the curtains of the night.
There, in rising day,
On the grass they play;
Parents were afar,
Strangers came not near,
And the maiden soon forgot her fear.
Tired with kisses sweet,
They agree to meet
When the silent sleep
Waves o'er heaven's deep,
And the weary tired wanderers weep.
To her father white
Came the maiden bright;
But his loving look,
Like the holy book,
All her tender limbs with terror shook.
'Ona, pale and weak,
To thy father speak!
O the trembling fear!
O the dismal care
That shakes the blossoms of my hoary hair!'
Source of the poem: Wikisource. Several versions of the Songs of Innocence and Experience illustrated by Blake can be found on The William Blake Archive.
Previously published on Agapeta, 2015/08/18.