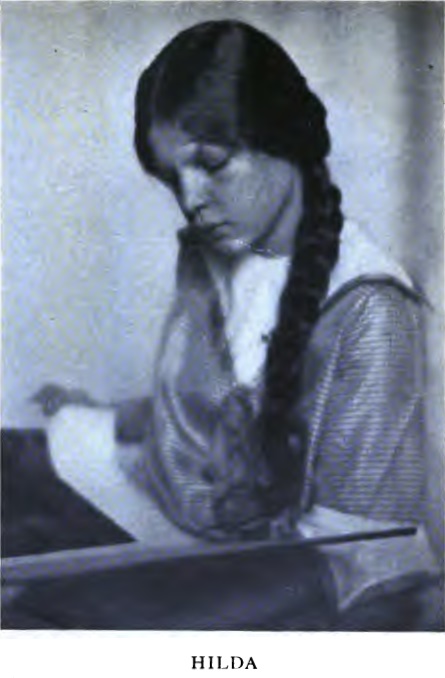 Two years after Poems by a Little Girl in 1920, Hilda Conkling published her second book of verses: Shoes of the Wind, A Book of Poems. She was 12 years old when the book appeared, and the poems in it were probably written between the ages of 9 and 12. They show a great maturity, with a literary style generally close to that of adulthood. On the other hand, they seem more conventional than her early works in the first volume, where she could as a child let her imagination flow unfettered.
I present here a first selection of three poems from this second volume. In the first one, Hilda describes her creative process. Recall that she never wrote down her poems herself, but told them to her mother who copied them.
POEMS
by Hilda Conkling
I KNOW how poems come;
They have wings.
When you are not thinking of it
I suddenly say
"Mother, a poem!"
Somehow I hear it
Rustling.
Poems come like boats
With sails for wings;
Crossing the sky swiftly
They slip under tall bridges
Of cloud.
Hilda Conkling loved nature. So the garden, with flowers and trees, is a recurrent theme in her poetry. Here it symbolises love inside her soul.
THE GARDEN
by Hilda Conkling
LOVE is a garden
Where my soul is a tree in bloom,
Where my joy is a fountain that keeps rippling
Forevermore.
The third poem expresses her concern for emotional needs of children. It is good to remind our epoch that they need tenderness.
I WAS THINKING
by Hilda Conkling
I WAS thinking
The tenderness children need
Is in soft shadow-things;
Is a kind of magic . . .
Petals of a dark pansy . . .
Cloudy wings. . . .
(But the sun can touch me
With fingertips like flowers . . .)
And the tenderness children need
Is in old thoughts and songs of all the world
People have not forgotten . . .
It is in the way mothers look at tired children.
It is in the half-voice fathers use
Feeling some surprise and gladness
To see their children there at all.
Source of the poems: Hilda Conkling, Shoes of the Wind, A Book of Poems (1922), from the digitisation of the original edition on Internet Archive.
My article "Illustrating Hilda Conkling's Poetry" in Pigtails in Paint introduces graphic compositions by two artists made with poems in that collection; it shows the ones with the poem "Moss," and gives links to those with the poem "The Key to My Mind."
This is a revised version of a post previously published on Agapeta, 2015/12/29.