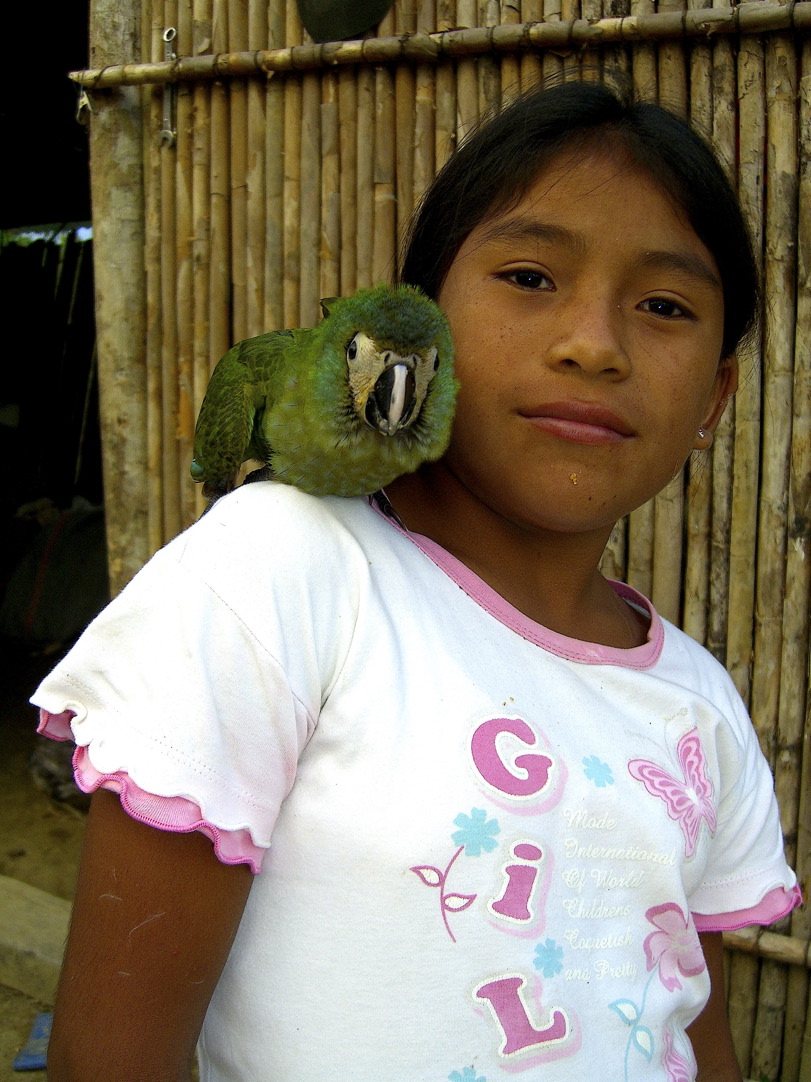 In the poem "The First Reformer" from Lava Lane, and Other Poems, Nathalia Crane told of a hummingbird who by his sweet words, kisses and caresses, persuades flowers not to be ashamed of their nudity. Now in the following poem from The Singing Crow and Other Poems, a young girl is taunted by an older girl "of the narrow shin" for openly indulging in the pleasures of love. But she finds a good advice from a philosopher parrot, a "painted Plato" who instructs her not to grieve because of the reproaches of narrow-minded people: "Love and the rites it sentries / Only the vexed condemn; / There are the lower branches— / There is the goblin stem."
THE ADVISERS
by Nathalia Crane
ONCE on a day Griselda—
She of the narrow shin—
Taunted that younger damsel,
Even Madeda Ginn.
This was the way she ranted:
"Shame on yourself, and fie,
Romping with russet satyrs,
You, with the odd-shaped eye.
"Under the moon I saw you
Down where the rattans wave;
Mayhap you want instruction,
Gift of a goat-foot knave.
"Ever the glance of Phryne
Carries the quester's gleam;
Ever a Sappho's pulses
Shout for the old régime."
Up rose that younger damsel,
Red to the dulcet chin;
Suddenly, someone calling,
Chanted "Madeda Ginn."
Turned she unto the thickets,
Traversed a tussocked cleft,
Came to the oldest parrot
Counting the feathers left.
There, mid the topaz grasses
Told of Griselda's tongue;
Answered that painted Plato
Pacing a bamboo rung.
"I am a gay adviser,
All of a hundred eleven;
I was a great grandfather
Ere I was half of seven.
"Many the wars I've witnessed,
Sprung by a narrow stave;
Fluff—till the trees sank downward
Under the plumes we gave.
"Tush, for the dry Griseldas
Juggling a mouldy feud;
We want the sway of palm trees
Launching the latest brood.
"Love and the rites it sentries
Only the vexed condemn;
There are the lower branches—
There is the goblin stem.
"Often a meagre leafage
Covers the mellow things,
Vermin have linked with ermine,
Mice with the golden wings.
"Gray is the eye of adder
Gold is the eye of toad;
Somewhere there rests a reason,
Somewhere a royal code.
"Grieve not because Griselda
Stands for the narrow shin;
I put my faith in candour,
Also Madeda Ginn."
Source of the poem: Nathalia Crane, The Singing Crow and Other Poems. Illustrated by Mac Harshberger. Albert & Charles Boni, New York (1926).
Previously published on Agapeta, 2018/01/24.