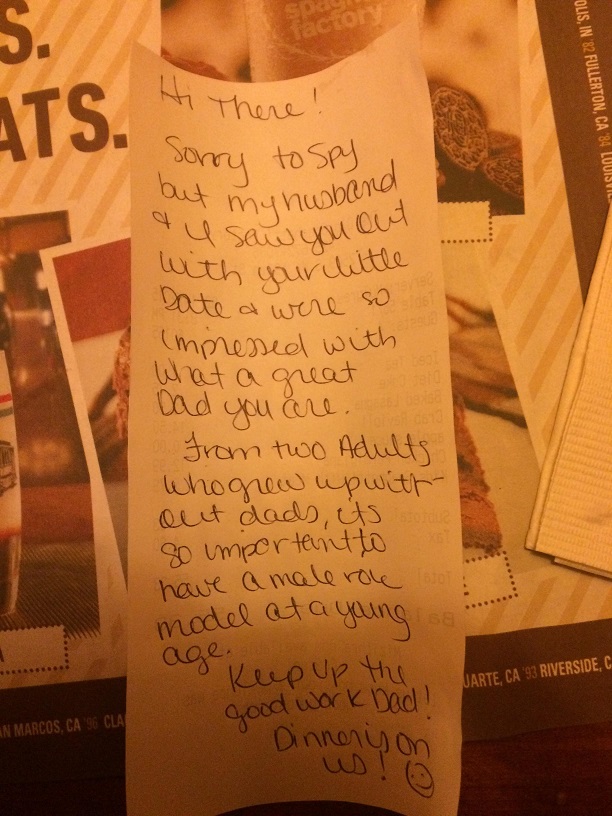 I usually don't care about Saint Valentine, and for me February 14 is just an ordinary day, like any other one. How boring these conventional stories about two adults, usually a man and a woman, who live in a couple and tell how much they love each other—do they really?
I always prefer unusual love stories. This one happened five years ago. On February 14, 2015, a single father brought his daughter aged six to restaurant and took well care of her. A couple gave him a little note warmly approving him and saying that they would pay the restaurant bill:
Hi there!

Sorry to spy but my husband & I saw you out with your little Date & were so impressed with what a great Dad you are.

From two Adults who grew up without dads, it's so important to have a male role model at a young age.

Keep up the good work Dad!
Dinner is on us! 🙂
His comment:
As a single dad, I took my six year old daughter out to valentines dinner tonight when this happened. I wont lie, I teared up at the table. So, thank you random strangers. Thank you.
Yes, every little girl needs to be loved and cherished by a devoted and caring mature person.
Source: imgur, February 15, 2015.
Previously published on Agapeta, 2015/02/17. This story was also mentioned in Pigtails in Paint, March 3, 2015.