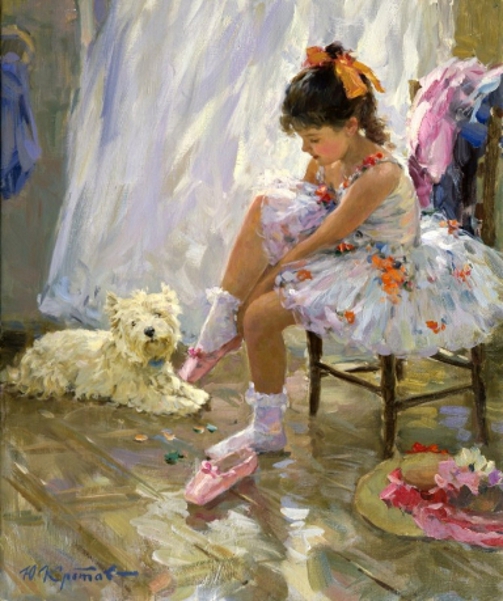 Gigi is a 1958 musical comedy film directed by Vincente Minnelli, based on the 1944 novella of the same name by the French writer Colette. The screenplay and the song lyrics were written by Alan Jay Lerner, while the music was composed by Frederick Loewe. It starts with Maurice Chevalier singing the song "Thank Heaven for Little Girls" and ends with a reprise of the same song by Maurice Chevalier with a studio chorus. Part of the charm of this performance comes from his typical French accent. Rather than the movie version, I prefer the following video of the song illustrated with pictures of little girls.
The lyrics are given with that video. They can also be found on several sites, in particular International Lyrics Playground, Songfacts, Lyrics.com and MetroLyrics. Some versions contain small errors, I give here the one sung by Maurice Chevalier.
Thank Heaven for Little Girls
lyrics by Alan Jay Lerner, music by Frederick Loewe
Each time I see a little girl
Of five or six or seven
I can't resist a joyous urge
To smile and say
Thank heaven for little girls
For little girls get
Bigger every day
Thank heaven for little girls
They grow up in
The most delightful way
Those little eyes
So helpless and appealing
One day will flash
And send you crashing
Through the ceiling
Thank heaven for little girls
Thank heaven for them all
No matter where
No matter who
Without them
What would little boys do
Thank heaven
Thank heaven
Thank heaven for little girls
The song has later been interpreted by many singers; noteworthy is the version by Bing Crosby. There are also more ironic performances, for instance Dean Martin on stage with moving dolls, or Gérard Depardieu in the 1994 film My Father the Hero, but the most hilarious interpretating remains that of Peter Sellers as Inspector Jacques Clouseau, with his faked French accent, in the 1978 film Revenge of the Pink Panther.
In the film Gigi, the meaning intended by the song was that girls grow up to become lovely young women. But in later versions, it became a celebration of little girls themselves. Hence in many musical shows it has been used to introduce little girls coming on stage, or to accompany a dance performed by little girls. A potent symbol is its use to accompany a stage dance between mature men and little girls. Indeed, this song has been interpreted mostly by mature men, and a few times by women; however I do not know of any version sung by a child or a young person. It has thus become a song expressing the love of adults for little girls.
Previously published on Agapeta, 2016/09/18.