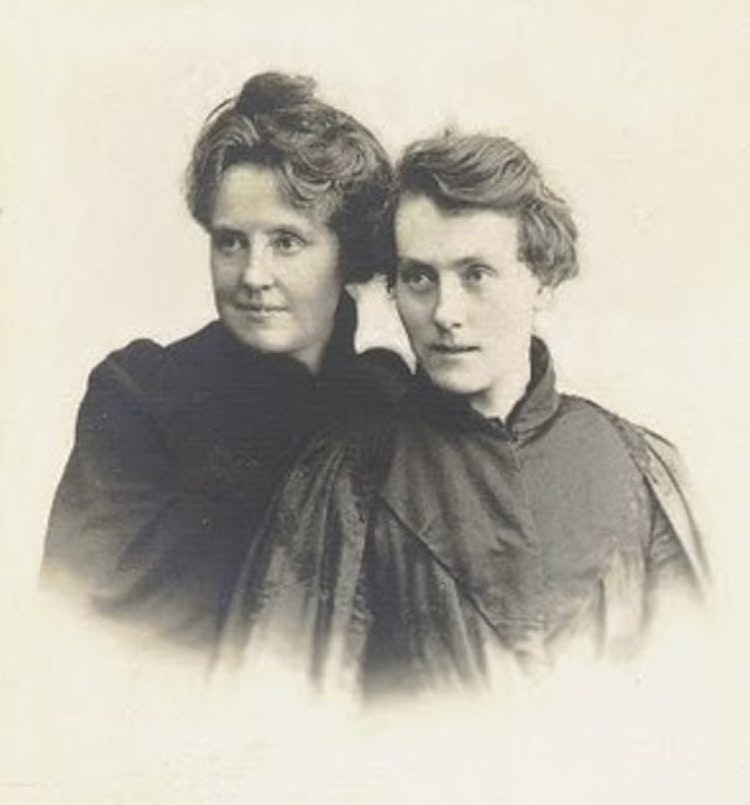 The English poet and playwright Katharine Harris Bradley was born on October 26 or 27, 1846, the second daughter of Charles Bradley, a tobacco merchant, and Emma Harris. Her father died in 1848. Her elder sister Emma, born in 1835, married John Robert Cooper in 1860. Their first daughter Edith Emma Cooper was born on January 12, 1862. After the birth of her second daughter Amy Katharine in 1865, Emma Cooper became invalid for life. In July 1867, Katharine Bradley and her widowed mother joined the Cooper family, and Katharine took care of the household and her two nieces. Her mother Emma Harris died in 1868, leaving Katharine as legal guardian of Edith and Amy.
Edith Cooper was a bright girl, she started writing poetry in her teens. Her relation with her aunt deepened, and the two progressively fell in love. In 1875, Katharine Bradley published under the pen name Arran Leigh a collection of poetry titled The New Minnesinger and other poems. After a dedication of the poems to her mother's memory, there is, before the table of contents, a frontispiece poem secretly dedicated to her 13 years old niece:
TO E. C.
MY deep need of thy love, its mast'ring power,
I scarce can fathom, thou wilt never know;
My lighter passions into rhythm may glow;
This is for ever voiceless. Could the flower
Open its petall'd thought, and praise the dower
Of sunlight, or the fresh gift of the dew,
The bounteous air that daily round it blew,
Blessing unweariedly in sun and shower,
Methinks would miss its praises: so I drink
My life of thee; and put to poet's use
Whatever crosses it of strange or fair.
Thou hast fore-fashioned all I do and think;
And to my seeming it were words' abuse
To boast a wealth of which I am the heir.
This love would last for the rest of their lives. They wrote each other many love letters, which were collected and published by Sharon Bickle in 2008. Here is the first one, written when Edith was nearing her 15th birthday:
Letter from Katharine Bradley to Edith Cooper
25 Dec. 1876
From Fowl to Fowlet;
From Owl to Owlet;
From Loving to Lover;
From Bard to his Brother;
From Arran Leigh
To the Voice to be;
From the hand of "Own"
To the dearest Known;
From the Bird-All-Wise
To the Light of his eyes;
From Friend unto Friend
After Life shall end.
Christmas 1876
At that time Edith, "the Voice to be," had written two unpublished works. The two women would remain together for the rest of their lives, as aunt and niece, lovers, and collaborating writers of poetry and theatre. Their first joint work, a play titled Bellerophôn, was signed Arran and Isla Leigh. Afterwards, they wrote most of their work under the pen name Michael Field, while a few pieces would be published anonymously. They chose one man's name for two women because of the double prejudice against women writers and against collaborative poetry. Under that name, they could explore subjects that were considered unsuitable for women, such as the flames of passion. Moreover, it allowed them to disguise their lesbian feelings under the appearance of the socially sanctioned passion of men for women.
Their first works won a warm reception from several critics. Unfortunately, their lifelong friend Robert Browning outed them to a few members of their social circle, and the news travelled fast. After learning that Michael Field was not a man, then worse, that they were two women, many critics lost their enthusiasm and became dismissive of their further works.
The two insisted that their writing was in complete unison, as if they had merged into a single person. But often some poem published under the name of Michael Field was written by only one of them. They also had different personalities, Katharine cultivated erotic passion and could pursue several projects at the same time, while Edith was more mystical and focused on the current project.
Their love relation was at first hindered by family. Now, Emma Cooper died of cancer in 1889, and after that, Katharine and Edith set their home in Richmond, London, while Amy took care of her widowed father. James Cooper accidentally died in the Alps in 1897, then Amy married in 1899, so Katharine and Edith were completely freed from any family restraint. The wealth from the Bradley family allowed them to live comfortably while doing no other work than writing, and without needing a husband to bring money home.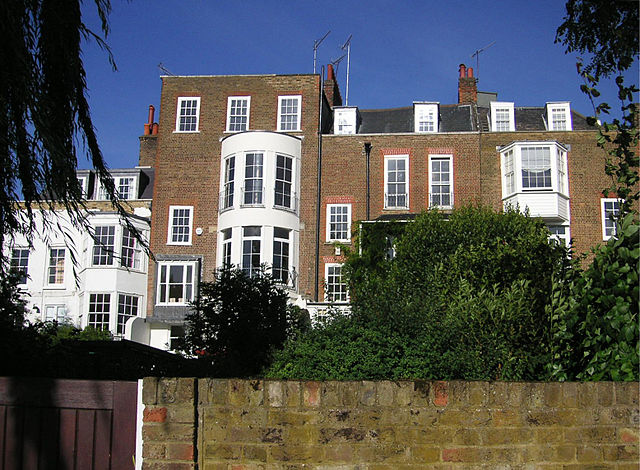 Both died of cancer, first Edith on December 13, 1913. As wrote Katharine Bradley in a letter to William Rothenstein:
My Beloved & I parted on Saturday morning — So still she lay beside me & the mirror yielded no breath. For nearly an hour I kept her hand in mine — incredulous — till a doctor came & said in truth that a very gentle spirit had passed away.
Katharine had hidden to Edith that she too was suffering from cancer. She died on September 26, 1914.
Sources of the poems:
Arran Leigh, The New Minnesinger and other poems, London: Longmans, Green, and Co. (1875).
Sharon Bickle (editor), The Fowl and the Pussycat: love letters of Michael Field, 1876–1909, University of Virginia Press (2008).
Further readings:
Alexis Coe, "The Forgotten, Scandalous Lesbian Writing Duo of the Victorian Era," Lenny Letter, February 2, 2018.
Michelle Lee, "Inventing Michael Field," The Poetry Foundation, January 27, 2010.
Sarah Parker, "Poets and lovers: the two women who were Michael Field," The Conversation, January 31, 2020.
The Poems of Michael Field, Dickinson College.