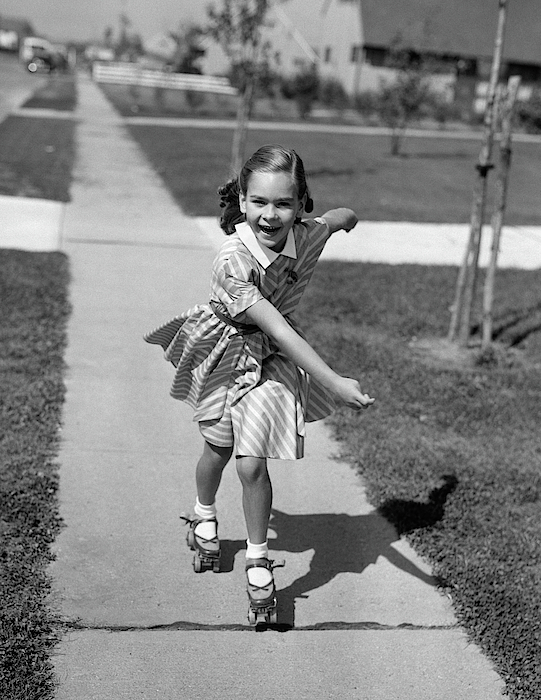 In 1886 Ashby-Sterry published a second collection of verses, The Lazy Minstrel. It included in a slightly modified form several poems from Boudoir Ballads. I have chosen in it an original poem about an unruly little girl who truly behaves like a savage tomboy, now "good as gold," then "pert and bold," "naughty but best of girls," he loves her as she is.
THE LITTLE REBEL.
PRINCESS of pretty pets,
Tomboy in trouserettes;
Eyes are like violets—
Gleefully glancing!
Skin, like an otter sleek,
Nose, like a baby-Greek,
Sweet little dimple-cheek—
Merrily dancing!
Lark-like her song it trills,
Over the dale and hills,
Hark how her laughter thrills!
Joyously joking.
Yet, should she feel inclined,
I fancy you will find,
She, like all womankind,
Oft is provoking!
Often she stands on chairs,
Sometimes she unawares
Slyly creeps up the stairs,
Secretly hiding:
Then will this merry maid—
She is of nought afraid—
Come down the balustrade,
Saucily sliding!
Books she abominates,
But see her go on skates,
And over five-barred gates
Fearlessly scramble!
Climbing up apple-trees,
Barking her supple knees,
Flouting mama's decrees—
Out for a ramble.
Now she is good as gold,
Then she is pert and bold,
Minds not what she is told,
Carelessly tripping.
She is an April miss,
Bounding to grief from bliss,
Often she has a kiss—
Sometimes a whipping!
Naughty but best of girls,
Through life she gaily twirls,
Shaking her sunny curls—
Careless and joyful.
Ev'ry one on her dotes,
Carolling merry notes,
Pet in short petticoats—
Truly tomboyful!
Source of the poem: Joseph Ashby-Sterry, The Lazy Minstrel, third edition, London: T. Fisher Unwin (1887). Transcription from the Project Gutenberg EBook.