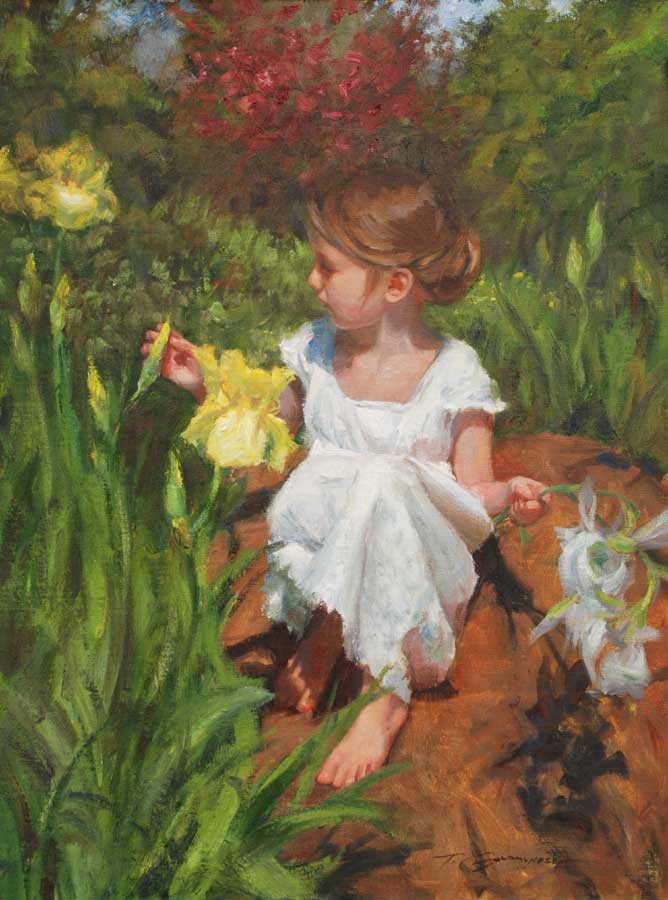 The English poet Andrew Marvell (1621–1678) lived through several political regimes, and could adapt to each one. He started his career under the Stuart Monarchy, then visited Europe during the Civil War; afterwards he returned to England and held official positions during the republican Commonwealth, finally he served as Member of Parliament during the monarchic Restoration. He could do this by writing complex and sometimes ambiguous poetry, which could be interpreted in several ways.
I present today such a poem with hidden meanings. The poet sees a little girl in a garden, playing among flowers. He is fascinated by her beauty, 'those conquering Eyes.' He imagines that when she grows up, she will have to oppose her chastity to the advances of suitors. Finally, he entreats her to pluck the flowers but to spare the buds, otherwise the goddess of flowers could take revenge by making her die before she grows into a woman.
A note on the poem says (Margoliouth is the editor of Marvell's Poems & Letters published in 1927):
Margoliouth suggests that T. C. was possibly Theophiia Cornewall, the youngest daughter of William and Bridget Skinner, see 'Andrew Marvell: Some Biographical Points', M.L.R., Oct. 1922.
I give the original version of the poem, in 17th century English:
The Picture of little T. C.
in a Prospect of Flowers
I
See with what simplicity
This Nimph begins her golden daies!
In the green Grass she loves to lie,
And there with her fair Aspect tames
The Wilder flow'rs, and gives them names:
But only with the Roses playes;
And them does tell
What Colour best becomes them, and what Smell.
II
Who can foretel for what high cause
This Darling of the Gods was born!
Yet this is She whose chaster Laws
The wanton Love shall one day fear,
And, under her command severe,
See his Bow broke and Ensigns torn.
Happy, who can
Appease this virtuous Enemy of Man!
III
O then let me in time compound,
And parly with those conquering Eyes;
Ere they have try'd their force to wound,
Ere, with their glancing wheels, they drive
In Triumph over Hearts that strive,
And them that yield but more despise.
Let me be laid,
Where I may see thy Glories from some Shade.
IV
Mean time, whilst every verdant thing
It self does at thy Beauty charm,
Reform the errours of the Spring;
Make that the Tulips may have share
Of sweetness, seeing they are fair;
And Roses of their thorns disarm;
But most procure
That Violets may a longer Age endure.
V
But O young beauty of the Woods,
Whom Nature courts with fruits and flow'rs,
Gather the Flow'rs, but spare the Buds;
Lest Flora angry at thy crime,
To kill her Infants in their prime,
Do quickly make th' Example Yours;
And, ere we see,
Nip in the blossome all our hopes and Thee.
Source of the poem: The Poems of Andrew Marvell: printed from the unique copy in the British Museum, with some other poems by him, Cambridge, Mass.: Harvard University Press, 2nd edition (1956), digitised on Internet Archive. The poem is on pages 36–37. The note quoted above is on page 170. A hypertext transcription of the poem (with some errors) has been given by Wikisource.
For a version in modern English, see for instance The Poems of Andrew Marvell: Sometime Member of Parliament for Hull, New York: Charles Scribner's sons (1898), digitised on Internet Archive. The poem is on pages 75–76.