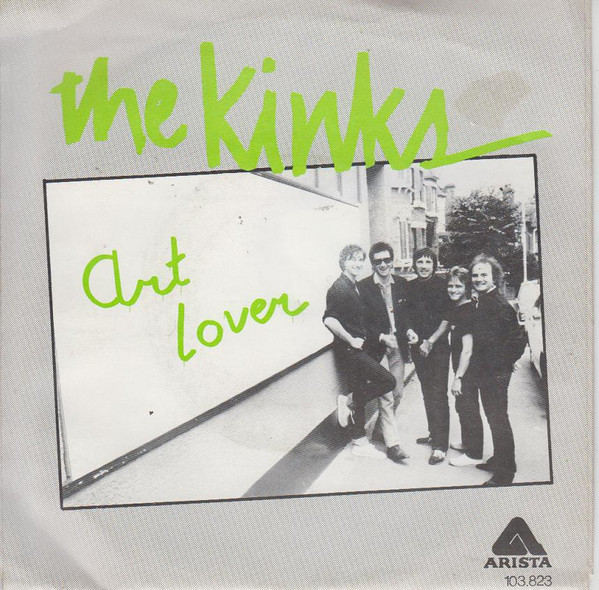 The two brothers Ray and Dave Davies founded the Kinks in 1963, which became one of the most influential rock bands of the 1960s. It broke up in 1997 as a result of creative tension between the Davies brothers.
Their 19th studio album Give the People What They Want was released in August 1981 in the USA and in January 1982 in Europe. Its 9th track "Art Lover" was released in August 1981 as a single with the 4th track "Predictable" as B-side.
This song, written, composed and produced by Ray Davies, looks like a story of a man who hides in order to peep at little girls and then to try to bring them home. In fact, it is about a divorced father who only gets custody of his daughter only once a week, and has otherwise to look at her from afar. The song initially contained the line "Sunday parents with their kids knowing they're just alone," but Ray Davies decided to take it out in order to preserve the ambiguity in the meaning.
Here is a musical video of the song, from the band's YouTube channel:
Here are the lyrics from Genius:
Art Lover
words & music by Ray Davies
Sunday afternoon there's something special
It's just like another world
Jogging in the park is my excuse
To look at all the little girls
I'm not a flasher in a rain coat
I'm not a dirty old man
I'm not gonna snatch you from your mother
I'm an art lover
Come to daddy
Ah, come to daddy
Come to daddy
Pretty little legs, I want to draw them
Like a Degas ballerina
Pure white skin, like porcelain
She's a work of art and I should know
I'm an art lover
Come to daddy
And I'll give you some spangles
Little girl don't notice me
Watching as she innocently plays
She can't see me staring at her
Because I'm always wearing shades
She feeds the ducks, looks at the flowers
I follow her around for hours and hours
I'd take her home, but that could never be
She's just a substitute
For what's been taken from me
Ah, come to daddy, come on
Sunday afternoon can't last forever
Wish I could take you home
So, come on, give us a smile
Before you vanish out of view
I've learned to appreciate you
The way art lovers do
And I only want to look at you