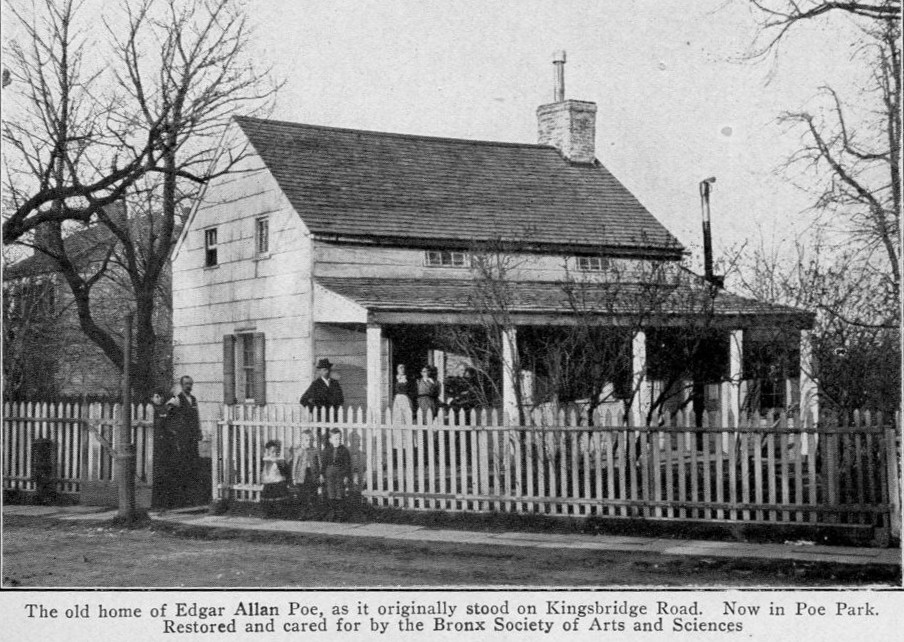 Around May 1846, Edgar Allan Poe moved in a small and humble cottage in The Bronx, New York City, with his wife Virginia Eliza Clemm and her mother Maria. It would be the last home of the couple. Virginia died of tuberculosis in the cottage's first floor bedroom on January 30, 1847; then Edgar died in mysterious circumstances in Baltimore on October 7, 1849, while he was travelling back home from Richmond. Upon hearing the news of his death, his mother-in-law Maria moved out of the cottage.
In this last home Poe wrote several of his most famous poems, in particular the beautiful "Annabel Lee."
New York City bought the house in 1913, restored it and moved it across the street, to be surrounded by a "Poe Park." Then it opened it as a museum, it is called the "Edgar Allan Poe Cottage."
Since Nathalia Crane lived in Brooklyn, New York City, she may well have visited the Poe Cottage, and indeed she wrote a poem about it. She imagines Poe living there with Annabel Lee, both adults, in a world where things seem unreal. In Poe's poem, Annabel Lee was his childhood love who died from a cold wind, while his love for her remained alive. One can thus wonder whether Annabel Lee stands here for Poe's beloved wife Virginia Clemm, who died of tuberculosis.
The "wrennet's cot" probably refers to the cottage itself, but it could perhaps also mean the small bed in the cottage's first floor bedroom, in which Virginia died.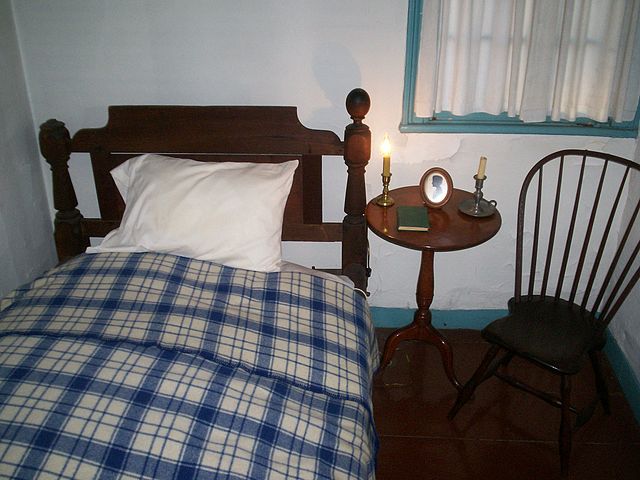 THE POE COTTAGE
by Nathalia Crane
THERE they dwelt in the wrennet's cot
Just as it was to be;
Paced the halls of a miniature—
Poe and Annabel Lee.
He was garbed in a courtly suit,
She in Colonial low;
Heads together they walked the halls—
Annabel Lee and Poe.
These indeed were particular hours;
No one tells of their glee,
How they laughed in the wrennet's cot—
Poe and Annabel Lee.
What if all of the snow that fell
Never was really snow;
What if all of their griefs were thus—
Annabel Lee and Poe.
What if all of the shadows there
Merely an imagery;
Nothing to do with the wrennet's cot—
Poe and Annabel Lee.
Source of the poem: Nathalia Crane, Venus Invisible and Other Poems. Illustrated by Ruth Jonas. Coward-McCann, New York (1928).
Previously published on Agapeta, 2018/03/15.