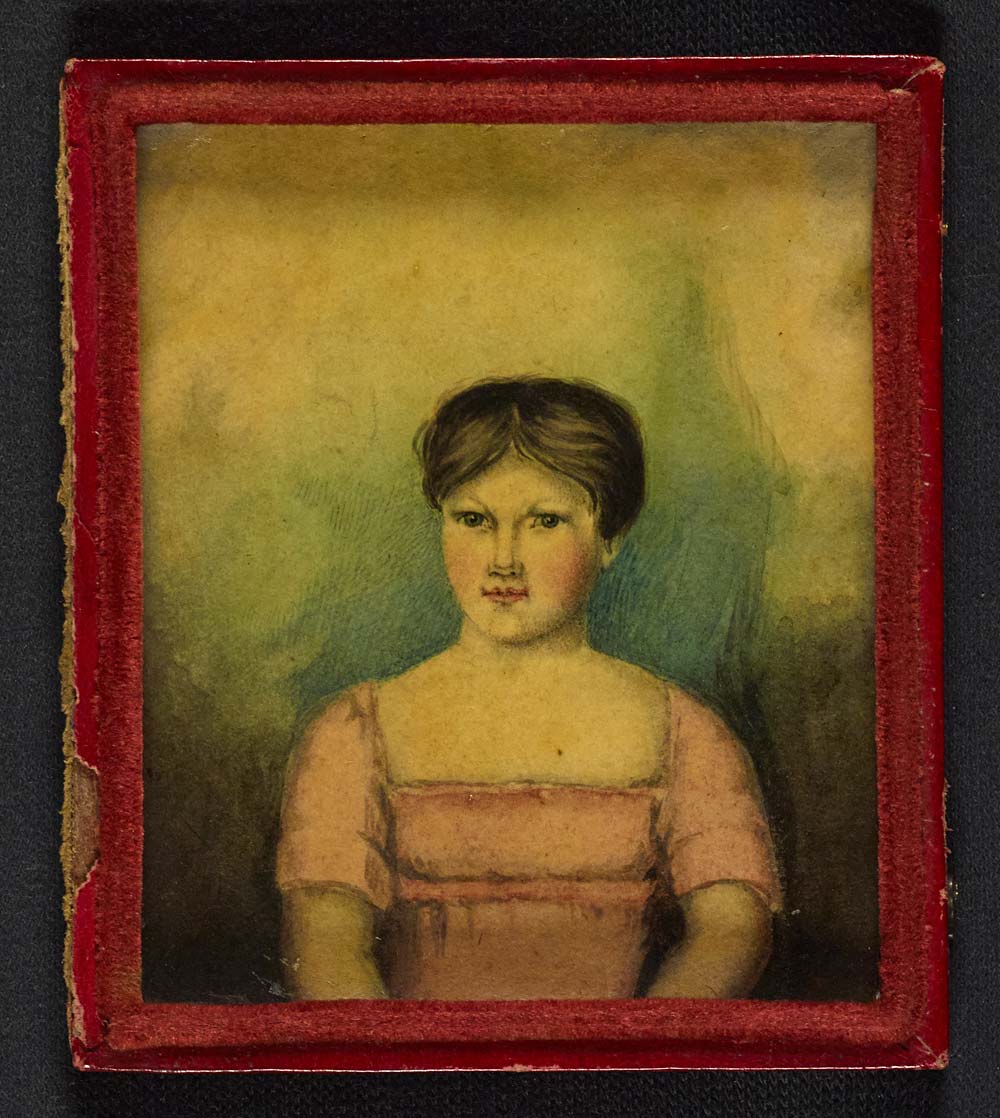 Marjory Fleming was not a really beautiful girl. In her first journal of spring and summer 1810 (when she was 7 years old), she wrote:
—I am very strong & robust & not of the delicate sex nor of the fair but of the deficient in look People who are deficient in looks can make up for it by virtue.
In a letter to Marjory's sister Isabella, dated April 1, 1811, her cousin Isabella Keith wrote:
I have almost entirely given up her dancing, as it took up a great deal too much time, and a few lessons a year or two after this will do her infinitely more good, she is grown excessively fat and strong, but I cannot say she is in great beauty just now, as she has lost two front teeth, and her continual propensity to laugh exhibits the defect rather unbecomingly.
But this did not prevent Marjory from showing a strong interest in beautiful men. Already in her first journal there is a poem dedicated to a handsome lad:
FAIR PHILLIP

Oar hills & dales fair Phillip strayes
And he doth walk through all the ways
He and myselfe are lovers true
We can feal pangs as well as you
Those that feal pangs are not so few
We walked upon the distand hills
And often goes into the mills
Very soft and wite his cheeks
His hair is fair & grey his breaks
His teath is like the daisy fair
The only fault is on his hair
I am beginning to be jealous
And feel a small degree of malice
That kindeles in my bosom fair
And fills my hart with great despair
All man you said you once loved me
But from your promises you flee
In her second journal of summer 1810, she tells about a delightful walk with George Craigie, a good-looking man with whom she was infatuated; the other two "well made Bucks" mentioned are her cousins William and James Keith:
The Day of my existence here has been delightful & enchantinting. On Saturday I expected no less than three well made Bucks the names of whom is here advertised Mr. Geo Crakey and Wm Keith and Jn Keith, the first is the funniest of every one of them Mr. Crakey & I walked to Crakeyhall han by hand in Innocence and matitation sweet thinking on the kind love which flows in out tenderhearted mind which is overflowsing with majestick pleasure nobody was ever so polite to me in the hole state of my existence. Mr Craky you must know is a great Buck & pretty goodlooking
But her cousin Isabella, who was in charge of her education, thought it improper for a little girl to speak about love:
I have a delightl pleasure in view which is the thoughts of going to Braehead where I will walk to Craky-hall wich puts me In mind that I walked to that delightfull place with that delightfull young man beloved by all his friends and espacialy by me his loveress but I must not talk any longer about hin any longer for Isa said it is not proper for to speak of gentalmen but I will never forget him
One year later, at age 8, she fell in love with several men in succession. First Charles and John Balfour. In a letter to her sister Isabella, dated April 1, 1811, she wrote:
—a new cousin of mine offered me marriage and his name is Charles Balfour and he is handsome to excess
Then in her third journal of spring 1811:
In my travels I met with a handsome lad named Charles Balfour Esg, and from him I got ofers of marage. Offers of marage did I say?
After Charles came John, also playing at offering her marriage:
Love I think is in the fasion for ever body is marring there is a new novel published named selfcontroul a very good maxam forsooth Yesterday a marrade man named Mr John Balfour Esg offered to kiss me, & offered to marry me though the man was espused, & his wife was prsent, & said he must ask her permision but he did not I think he was ashamed or confounded before 3 gentelman Mr Jobson & two Mr Kings Isabella teaches me to read my bible & tells me to be good and say my prayers, and every thing that is nesary for a good carecter and a good conscience. —
Although Charles played music, John was more attractive:
— Two of the Balfours dined here yesterday and Chareles played on the flute with Isabella and they are both very handsone but John has the pleasest expression of them all but he is not instrumental which is a great loss indeed because it would afford him amusement and diversion.—
Alas, both left her for good:
The Mr Balfours are gone far far away & I will not so much as see or hear of them anny more but I will never forget them never never
But Isabella frowned upon such a passion in a little girl:
In the love novels all the heroins are very desperate Isabella will not alow me to speak about lovers & heroins & tiss too refined for my taste
Again and again she tried to forbid Marjory to speak about love:
A sailor called here to say farewell, it must be dreadfull to leave his native country where he might get a wife or perhaps me, for I love very very much & wth all my heart, but O I forgot Isabella forbid me to speak about love. — […]
Isabella is always reading & writing in her room, does not come down for long & I wish every body would follow her example & be as good as pious & virtious as she is & they would get husbands soon enough, love is a very papithatick thing as well as troubelsom & tiresome but O Isabella forbid me to speak about it.
I finally quote a letter she wrote from Edinburgh to her mother; the original is lost, one must thus rely on the copy published by Brown and Macbean; indeed, one sees in it a correct spelling and grammar, which does not accord with the style of her original writings. Here Jamie and Willie are her cousins James and William Keith:
I am very much acquainted with a young gentleman called Mordecai that I am quite in love with, another called Captain Bell, and Jamie Keith, and Willie's my great tormentor.
[…]
The young gentleman I was speaking of Mordecai, he's very funny. James Keith hardly ever Spoke to me. he said Girl! Make less noise, and, when there was a storm sometimes said take out away all your iron, and once before he said, Magdie, go and dance, which I was very proud of. […] I've forgot to say, but I've four lovers, the other one is Harry Watson, a very delightful boy.
In a third post, I will return to the relation between Marjory and Isabella Keith, and present some beautiful poems that she wrote for her beloved cousin.
Source: Barbara McLean, editor, Marjory's Book, The Complete Journals, Letters and Poems of a Young Girl, Mercat Press (1999).
Previously published on Agapeta, 2018/05/14.