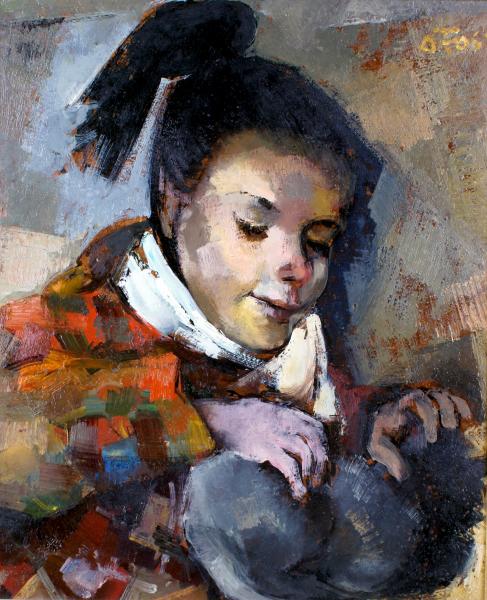 In a previous post, I transcribed one of the two poems in English from her second volume, Le Pêcheur de lune: "The pillar-box's song," dedicated to her "Tandothy." Here is the other one, dedicated to the pupils of "Tandothy."
To my friends, Tandothy's pupils,
who send to me such a nice Christmas
pudding made by themselves.
THEN THEY COME
Behind my window-pane
was there…
Was there, why?
My heart
was there…
nothing
was neither noise
nor shape
but, my heart.
Tiny everything guessing,
You feel
that
something
or
somebody
was announcing
this coming
by
an
untelling
hand.
The rainbow-like hand
Of a moonbeam,
The paradise-smelling
Of a rose
Opening its blouse
To let
The early sun
Goldsunburn
its neck,
The hand
Of the most mysterious happiness
That God
created
To knock
On our window-panes
To whisper
to us:
Toc, toc, something
is going
to happen…
Then, behind
my window-pane,
was there
Snow-capped,
Sandy-skinned
Night-like eyed
Sweet-smelling
More than
All the pastries
Running
Around the earth,
A lady
appears.
Taking off
Her cap
She bowed
Her sunny face
And all the bees
Fly there
Buzzing:
Oh! Here is the Honey—Fair!
The lady
Sings
Out of the sweet hand
Out of the sweetest heart
Out of an English saucepan:
Here I come
To meet
A poor cat
Called Minou
And I am
Lady Past
Issued
From
A Christmas Pudding.
Don't think
I am only
A cake.
No, I am
A new Sputnick
Who runs
From
Mouth
To mouth
Among
All the children
Of the world.
I am the Sputnick
Called Love.
Could
All the gaping
White bowls
Where
Every
Christmas pudding
Is sleeping
In
Its last sweet
Currant-spotted
Honey-clouded
Quiet sleep
Ring the earth
With their
Jolly
Rock n' roll,
Surely they would succeed
In driving away
For ever
War
From everywhere.
Source of the poem: Minou Drouet, Le Pêcheur de lune, Pierre Horay (1959).
Previously published on Agapeta, 2017/10/26.